I received this
tip
from
Eastman Health & Wellness
the other day...


Sticking with a New Year's Resolution

Improve your chances of achieving your new year's health goals. Be specific. Instead of promising to lose 15 pounds,
state how you will do it
. For example, say that you will add 40 minute walks along the Lake Front or workouts at the health club, 4 times a week. Use a simple tracking system, perhaps check marks on a calendar, to help you keep your focus.


I think that makes a lot of sense. Like me, I have a goal to loose weight, but it won't work just by having a goal. There has to be a behavior change. By stating how you will do it then that defines the behavior change that should result in weight loss.
Laugh A Little

I hope you laugh a little each day. I have a friend from the gym where we workout that sends me lots of funny things in the email. He sent me this chicken in the pot, and those two monkeys down below.
~~~
My advice for the day

Never, under any circumstances, take a laxative and sleeping pill the same night.
~~~

And if you think nobody cares... then try missing a couple of payments.
~~~

They told me to cheer up, things could be worse. So I cheered up, and sure enough, things got worse!
~~~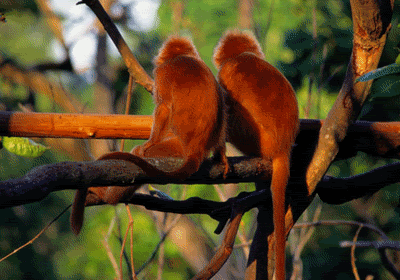 ~~~
Quote of the Day
Many men go fishing all of their lives without knowing
that it is not fish they are after.
~Henry David Thoreau


A woman and her little girl were visiting the grave of the little girl's grandmother. On their way through the cemetery back to the car, the little girl asked, "Mommy, do they ever bury two people in the same grave?"

"Of course not, dear," replied the mother, "Why would you think that?"

"The tombstone back there said... 'Here lies a lawyer and an honest man.' "


Add your thoughts & ideas to this blog by clicking on the "comments" below